Staff at Farnham College recently saw an opportunity to support both students and the environment, by creating a tree planting project within the grounds of the campus at its site in Morley Road.  
The Woodland Trust's community tree planting program recently gave the college 315 saplings and, with the support of Haskins Garden Centre in Farnham who very kindly donated some equipment, this allowed them to ensure students at Farnham College have the opportunity to plant the trees between now and March.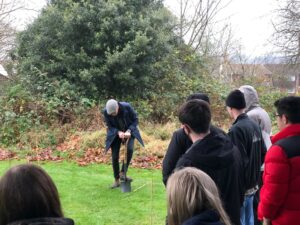 Supporting Farnham Town Council's target for the town to become carbon neutral by 2030, the students are busy planting small coppices around the site in order to provide wildlife habitats and natural screens in current gaps in vegetation.  
This will not only support the environment and encourage wildlife habitation, but also gives the students the opportunity to be out in nature and appreciating their surroundings whilst leaving a lasting legacy of their time at the college. 
Steven Bell, lead tutor on the project said: "This is an initiative we have been working on to support the mental health and general wellbeing of our students by encouraging them to get outside and connect with nature, something we have found is important post lockdown."