Reducing the gap: What does levelling-up really look like?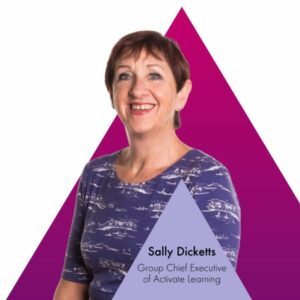 Successive Governments over the years have spoken about closing the gap between the haves and the have-nots.
And why wouldn't they? We all want to create a level playing field for our learners, but as it stands it's the most socially disadvantaged kids that don't do well.
Something that has also been made worse during this latest lockdown as we've seen thousands of young people experiencing digital poverty without access to the equipment they need to learn or the space and family support during this pandemic.
If GCSEs are norm-referenced, we know there will always be a percentage of children that will come away from their exams without any qualifications at all.
The reality of levelling up might mean that one of those children might be yours, so the question you need to ask is, – is that something you can accept if it creates a fairer system?
What needs to be done?
Structures of education and how we measure success need to change. We expect all young people to learn within the same time frames and by a set age.
But young people who come from backgrounds where they suffer trauma, or act as carers for parents and grandparents, may not have the same emotional space to learn.
A child from a background where they are constantly being emotionally charged will be living with high levels of cortisol pumping around their brain, causing high levels of stress which impairs their thinking brain.
By the time they reach school or college, it will take them up to half a day to become emotionally neutralised, meaning that the hours they have available for learning are far less than those young people who are coming from emotionally stable environments.
And this situation is now being exacerbated by the current pandemic, where we know some young people will have spent weeks and months locked in an environment where their brains are in a constant state of stress and the capacity for any thinking or learning is significantly reduced.
And this is regardless of whether they have access to a computer or not.
Looking ahead and thinking we will be back to some sort of normality come September, and we just start bringing all these children back into our classrooms, on the same course, with the same hours and delivered in the same way, with the same levels of support, how are we levelling up?
If we're really wanting to level up, we need to look at a very different start of term that takes into account the emotional needs of our most vulnerable learners and those most impacted by home-learning. We need to provide them with both the emotional support and more practice at what they've missed out on.
What has Activate Learning done to adapt to the needs of these learners?
At Activate Learning we have introduced progress and intervention coaches. Our progress coaches are dealing with the remediation in learning, giving additional work and feedback and being the cheerleader for the individual.
Our intervention coaches are trained to support the emotional needs of the individual, helping them to build up their self-belief and self-worth and showing them how to redirect their stress and anxiety into positive activities.
Education shouldn't only look at what young people have lost out on intellectually. As educators we need to look at what our young people have lost out on in terms of emotionally, and for many what they have lost in terms of practical and social skills.
We need teaching teams that include experts in these fields, who can both help teachers to improve their lessons to meet these needs, but to also review the environment we are bringing our young people back into and provide them with the additional support they will inevitably need.
This will be particularly important within an FE context, where head, hand and heart, and practical skills,  social and emotional skills are so important to prepare our young people for employment and further education.
If we knew we would have the funds and wherewithal to provide this additional support from September 2021 through to 2022, we could begin to repair some of the damage created by this cruel pandemic.
If this worked, we could then really begin to level up all our learners, so they truly had an equal opportunity to gain the education they need. If like hospitals we had triage teams, so instead of teachers facing this alone, we had a group of professionals comprised of teachers, progress and intervention coaches, and psychologists all of whom have been trained in trauma informed practice, educational neuroscience and behavioural psychology we may truly begin to close the gap.