Register now for Farnham College's Spring Virtual Open Event on Wednesday 10 February, 5-8pm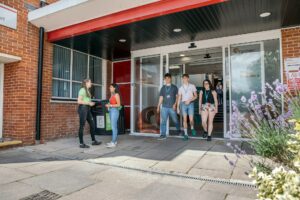 If you are considering your options for next year, now is the time to explore the opportunities available at Farnham College!
Activate Learning is showcasing its extensive range of programmes at Farnham College during the Spring Virtual Open Event on Wednesday 10 February, 5-8pm.
The event will take place on the Activate Learning website and via Microsoft Teams Live and anyone who would like to attend the Open Event will need to register beforehand.
Attendees will be able to watch presentations about the college and enjoy subject- specific talks. Prospective students will also get the chance to ask any questions they have during live Q&A sessions.
In addition to these faculty appointments, Activate Learning will also offer one-to-one support sessions with advisors from Activate Apprenticeships, Head of Campus – Student Experience, School Partnership Executives, Student Support and Learning Support teams. These one-to-one sessions will be available to book throughout February on Tuesday and Thursday afternoons, (except during half-term) from 3.30-5pm.
Prospective students can speak to a member of the Activate Careers Team for impartial advice about courses, possible careers and general guidance about next steps which are available. Virtual one-to-one Activate Careers appointments are available between 11am- 1pm and 2-4pm from Monday 15 – Friday 19 February.
These appointments will take place via Microsoft Teams. Mobile device users are advised to download the Microsoft Teams app beforehand.
At the Virtual Open Event, attendees will be able to:
find out more about all our courses and programmes
discover more about our college from our Head of Campus – Student Experience
get their application in for September 2021 entry
find the right course with our friendly teachers and Student Support team
find out how we support all of our learners to achieve their full potential
better understand qualifications with our Careers team
Staff will be available to talk through all options and plan out a learning pathway for prospective students. During the event, attendees will also be able to submit their application early to guarantee their place for next year!
Why choose Farnham College?
At Activate Learning, students are supported in developing the skills they need to succeed in the workplace. Our learning programmes lead directly into sustainable career options, and we can help you identify where your studies can take you.
Jack Roberts, who is studying an IT Level 3 Diploma at Farnham College, said: "Farnham College is a great place to come. It has a really friendly atmosphere and I've made some good friends. I'm really happy here."
Neil Brookes, Head of Campus – Student Experience at Farnham College said: "In light of the coronavirus pandemic, we are doing Virtual Open Events this February to build upon the success that we had for our previous Virtual Open Events that took place in June, October and November last year.
"I hope that everyone who attends will find out how we can support them to reach their full potential at college."
How do I book my place?
Attendees can register their attendance for the Virtual Open Event now and discover how an education with Activate Learning can help them achieve their goals.