This year, 27 Activate Learning Farnham College students taking GCSE programmes achieved a pass grade after studying English and/ or maths at GCSE level. 
Many of the college's GCSE students are learners who need to retake maths, English or both, in order to continue in education.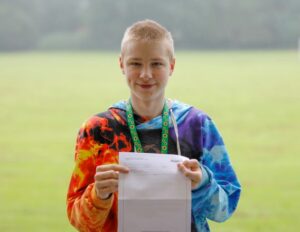 Jack Roberts,16, achieved a grade 4 in his English GCSE and said: "It's a huge relief to achieve a grade 4 in GCSE English. I'm so grateful to my teacher, Carmen Harvey-Browne, for all her support and encouragement. I'm now able to apply for a place at university once I've finished my Level 3 programmes in Gaming, IT and Applied Psychology at Farnham College." 
Cameron McEwen, 18, achieved grades 4 and 3 respectively in English and maths and has been accepted by the Royal Navy to train as a 'Warfare Specialist' as part of the 'Protection Fleet'.  
He had to complete a series of psychometric tests with the Royal Navy and has been offered this exclusive role due to his exceptional scores in the tests and because of his grades at Farnham College.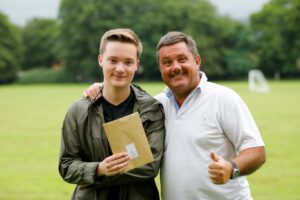 Both he and his father are absolutely delighted, and Cameron is very grateful for all the support he has received whilst studying at FC.    
Head of Farnham College, Neil Brookes, said: "Students have been through another extraordinary year. They have worked amazingly well in demonstrating their sk
ills and knowledge in a variety of ways that will stand them in good stead for the next stage of their journey.  
"We are proud of our students' results today and celebrate with them. To achieve what they have this year shows a level of grit and resilience like no other. We wish everyone collecting results today every success with their next steps." 
Sally Dicketts CBE, Chief Executive of Activate Learning, said: "Congratulations and well done to those of you picking up your GCSE and level 2 results today. You have managed, under difficult and changing circumstance, to stay focused on your studies and have I hope obtained the grades you were wishing for.    
"There are now a range of worthwhile, stretching vocational and/ or academic courses for you to consider undertaking, in order to provide you with the jobs and lifestyle you want for your future.   
"But all is not lost if you haven't got what you had hoped for, we can work with you to help you realise your ambition. Just come and speak to us at Activate Learning whatever your results. We can help." 
We are providing information, advice and guidance for anyone who feels they need to discuss their next steps in education on a virtual basis – book a session here.    
Tutors and career advisers will be on hand to help anyone who is unsure as to what to do next after GCSEs, and we can also provide advice on funding and other student support services. 
Find more information here