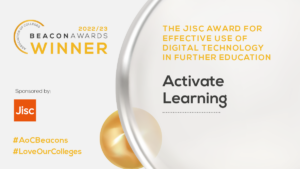 Activate Learning was recognised for its use of digital technology in FE with a win at the prestigious Association of Colleges (AoC) Beacon Awards today (27/2).  
The FE college group scooped the Jisc Award for Effective Use of Digital Technology in FE, which celebrated the innovative approach Activate Learning has taken in incorporating digital technology into its industry-leading online provision. 
Activate Learning launched its online programme in 2020 just prior to the pandemic, as part of an initiative to widen participation in education and help people improve their lives through learning.  
Last year, the programme reached sector-leading results with the proportion of our online GCSE students who achieved 9-4 grades, is significantly higher than nationally with 79.1% achieving a 9-4 compared to the national 9-4 pass rate of 46.1% and 92% of our Access to HE learners successfully applying to university. 
Gary Headland DL, CEO of Activate Learning, expressed his gratitude for the award and praised the commitment of the team behind this award-winning programme. 
He said: "At Activate Learning, we believe in the power of digital technology to transform education and provide opportunities for learners to succeed.  
"This award is a testament to the hard work of our staff and the innovative approach we have taken to incorporate technology into our learning provision. I'd also like to recognise all the amazing students around the country, who have responded so well to our innovative, student-centred approach."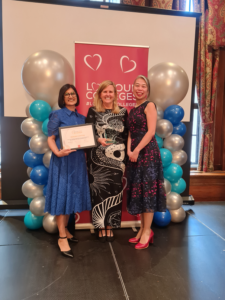 Gary also spoke about the importance of education in meeting both local and national skills needs and the role that technology can play in providing wider access to education.  
"We believe that education is the key to unlocking potential and driving economic growth. By using digital technology to enhance our provision, we can provide opportunities for learners who may not have been able to access education before and help to bridge the skills gap that exists in our communities." 
This award is a great achievement for Activate Learning and demonstrates the dedication and commitment of the organisation to providing innovative and high-quality education to its students.  
The use of digital technology in education has become increasingly important in recent years, and Activate Learning will now provide a showcase of the work it has done for colleagues across the sector.