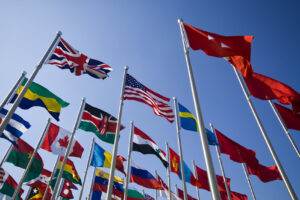 The Institute of Sales Professionals is launching a series of free masterclasses to boost the selling skills of small businesses. The 'Transforming Sales' and 'Developing International Sales' workshops are one day workshops designed to give practical advice to help transform the sales results of small businesses with step-by-step advice to achieve bigger deals and better profits. 
For the Transforming Sales workshop, SMEs will be supported to put together an action-plan tailored to their own company. Once the plan is established it can be repeated effectively with other businesses.
Organisations that already use this method have reported some stunning successes, including: 
an increase in sales growth from 6% to 70%

 

record level orders with different organisations in different markets

 

reinvigorating a struggling product and service against a major competitor in the market.

 
 Britain's exit from the European Union has opened the door for UK businesses to trade in new markets across the world but for many organisations, particularly small enterprises, getting started can be something of a daunting experience. With that in mind, the Developing International Sales workshop will deliver practical advice and step-by-step guides to doing business outside the UK.
All of the workshops are being presented by John Tunstall, a sales leader and fellow of the Institute of Sales Professionals.   
The workshops are all free thanks to a partnership with the Department for Education. Find out more and book your place at the links below: 
Transforming Sales Workshop
Event Date: Thursday 9 March 
Event Time: 09:00 – 17:00 
Price: Free 
Event Location: Login Business Lounge, 34 Park Street, Camberley, GU15 3PL 
Book your place: Event Detail – Surrey Chambers (surrey-chambers.co.uk) 
Developing International Sales Workshops
Event Date: Tuesday 14 March 
Event Time: 09:00 – 17:00 
Price:  Free 
Event Location: Guildford College, Stoke Road, Guildford, GU1 1EZ 
Book your place: Event Detail – Surrey Chambers (surrey-chambers.co.uk) 
Event Date: Wednesday 22 March 
Event Time: 09:00 – 17:00 
Event Theme: International Trade 
Price:  Free 
Event Location: BizSpace, Belvedere House, Basing View, Basingstoke, Hampshire, RG21 4HG 
Book your place: Calendar Detail Provided By RubiCRM (hampshirechamber.co.uk)