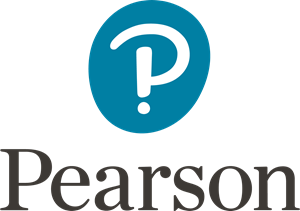 Art and Design at Banbury and Bicester College is exciting, practical, and industry-focused. This programme will give you a broad base of relevant art and design skills.
You can use these within a career in the Arts as either a practising artist/designer or for successful progression onto a diverse range of Higher Education Degree programmes.
You'll be taught by industry-trained, expert practitioners in specialist buildings housing a variety of professional facilities, including:
a HD TV studio
a cinema room
multiple Mac suites
expansive dark room
dedicated art workshops
Tuition fee: Home/EU* fees for September 2022 entry are £6,165 per year.
Please note:tuition fees are published for the first year of entry only and may increase in subsequent years both for new and continuing students in line with an inflationary amount determined by the Office for Students
*Fee information for European Union (EU) students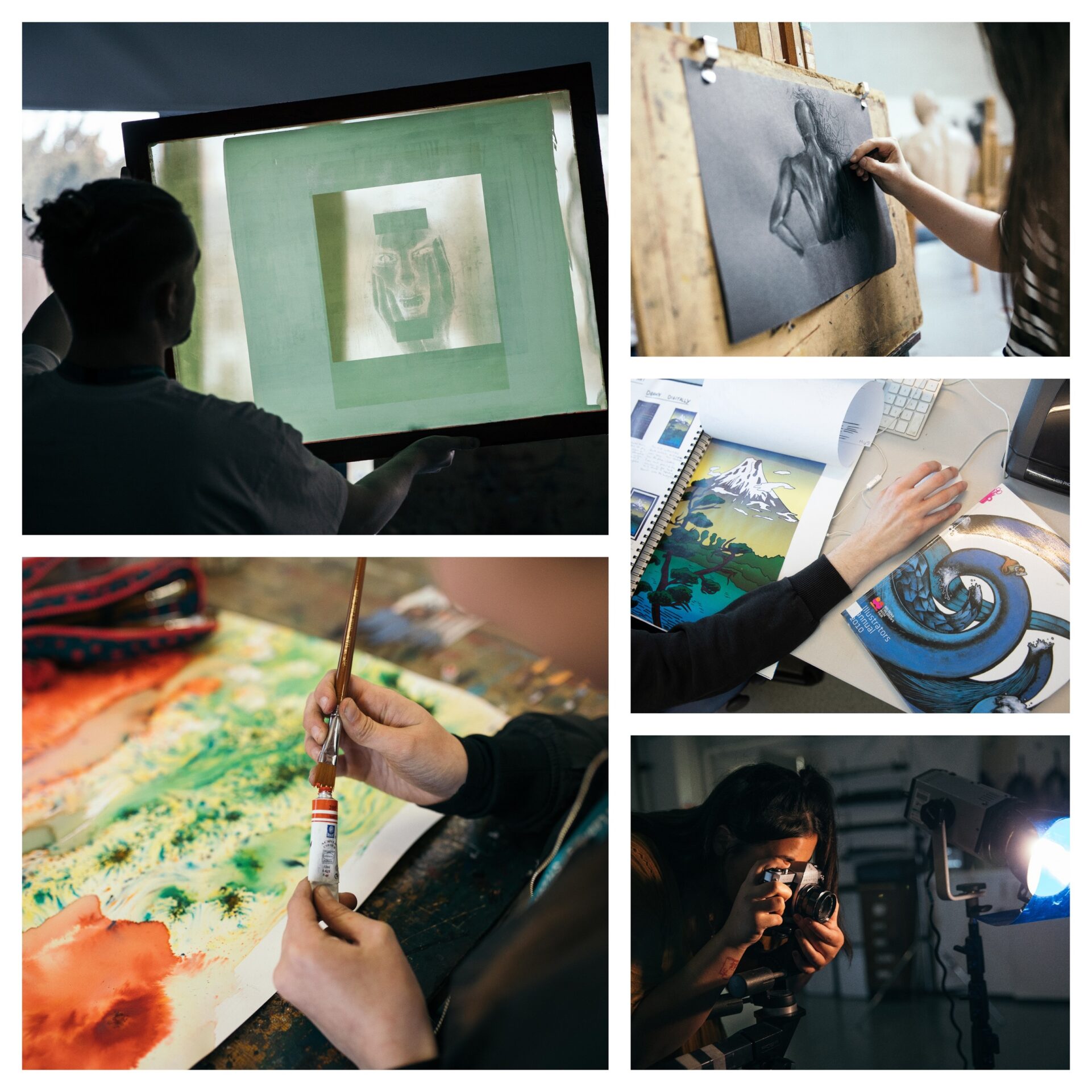 If your course starts on or after the 1st August 2021 you will no longer be eligible for financial support from Student Finance England unless you meet one of the following criteria:
You are able to benefit from the citizens' rights agreements
You are an Irish national living in the UK or republic of Ireland: benefits of Irish nationals under Common Travel Area guidance arrangement will continue.

If you are interested in this course and would like an informal, no-obligation chat about the details of the course, would like to arrange to come on-site and visit our facilities, learn how to sign up, or anything else, please get in touch and we'd be happy to help!
What you'll learn
Working closely with your tutors and through a diagnostic approach to your studies, you will identify your creative strengths and produce a final project which will be part of the exhibition at the end of the course.
You will learn in our excellent facilities and studios, doing practical, assignment-based learning, supported by reflection and evaluation.
As well as regular visits to museums and galleries, the course may include an overseas trip. Recent trips have included visits to New York, Berlin and Prague.
How you'll learn and be assessed
This programme encourages experimentation. We'll equip you with a range of skills and techniques and the vocabulary required at higher-education level.
The ability to develop ideas from conception to solution is a critical component, along with the capacity to verbalise and present ideas and work. Critiques, tutorials and reflective practice help you to develop these skills. You'll also have the opportunity in seminars and exhibitions to develop skills in presenting your own and other artists' work.
We will prepare you as fully as possible for life at degree level or employment.
It is a fundamental principle that you develop your own style, work independently, and that your portfolio reflects this.
When you graduate, you'll be able to perform effectively in your chosen field and will have the qualities necessary for employment, being able to exercise personal responsibility and decision-making.
100% coursework (there is no exam). Coursework is internally assessed and externally moderated by Pearson.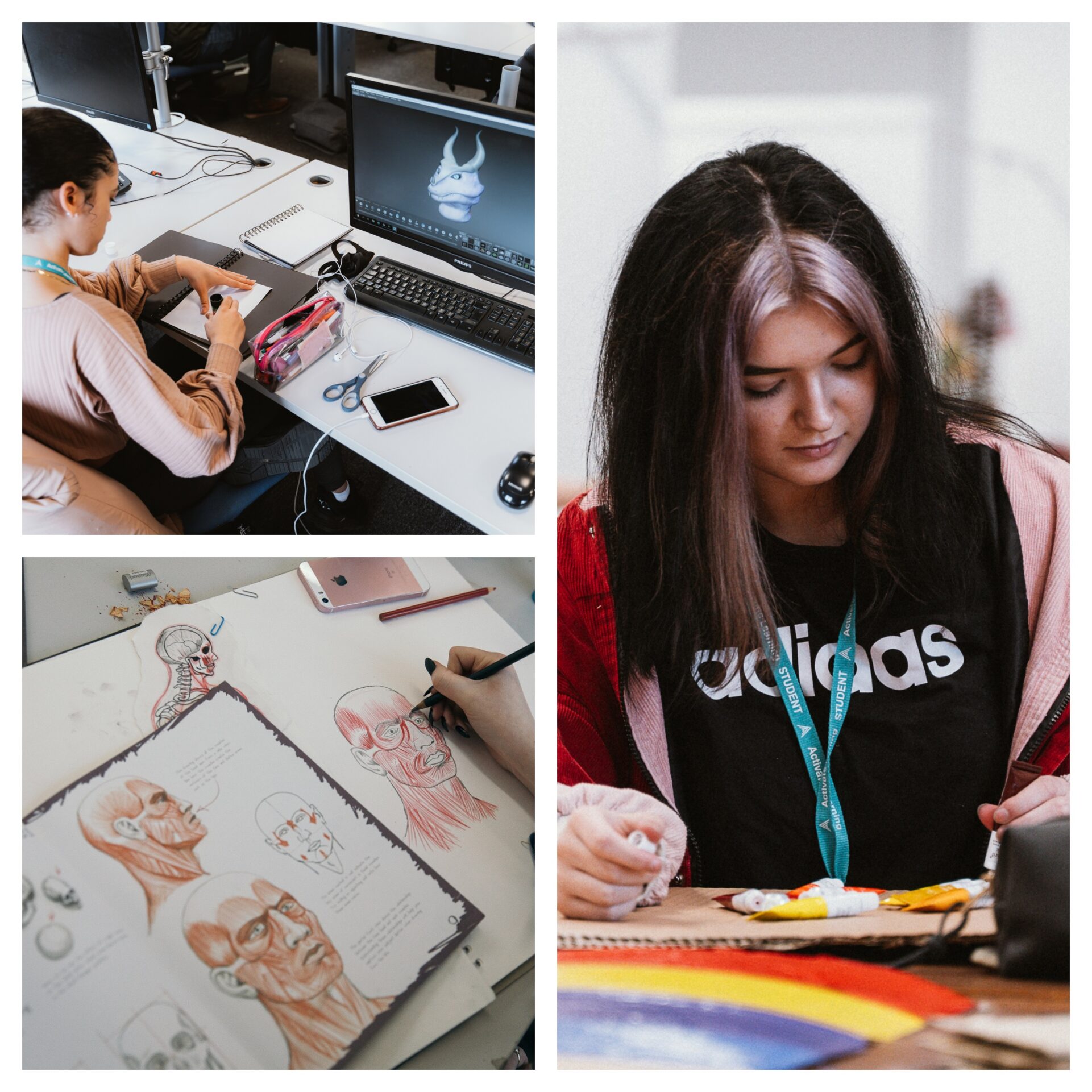 Entry requirements
Applicants for the HND in Creative Arts must be 18 years old or above and have two A Levels or equivalent (e.g., a Level 3 Extended Diploma in one of the Arts).
Considerations as to qualifications against experience will be considered for mature students. You will need to share a portfolio of work, including sketchbooks and any other creative artwork you have. Practical work includes simulated and live briefs and course related visits. You need to be able to work independently and you are required to carry out work outside of timetabled hours.
How to apply
Applicants should apply through the UCAS (the Universities and Colleges Admissions Service) website. All courses will be listed under Activate Learning on the UCAS website.